Naomi and I had a wonderful 3 day weekend at Starvation Acres! The deer hung out near camp every morning and a hen turkey came by with a few poults following her. As you can see, Naomi went all domestic on me and cooked dinner one evening. "Who are you and what have you done with Naomi?"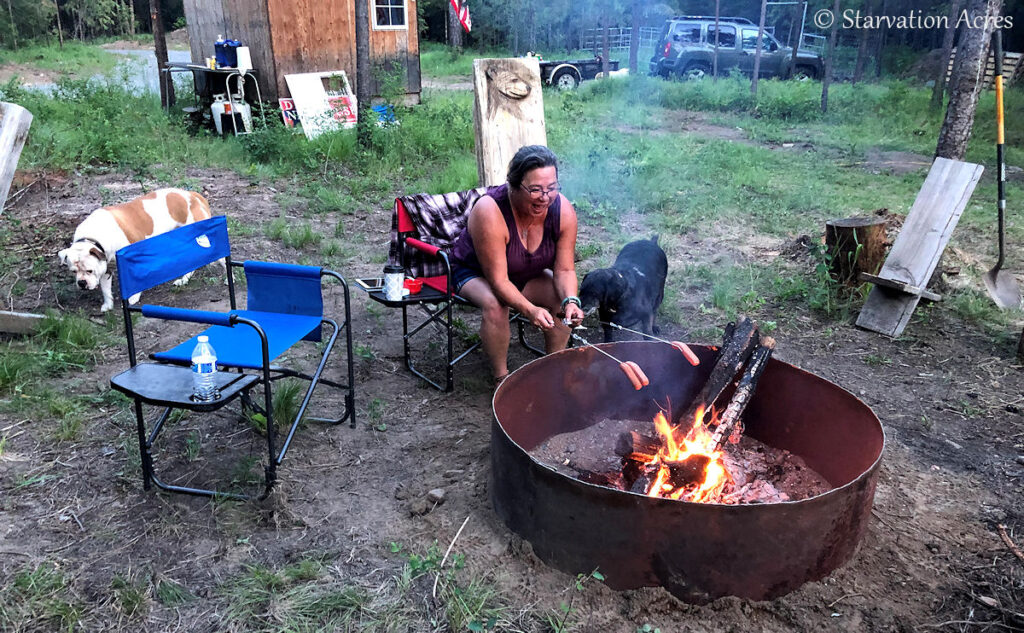 Mind you, the above photo is documenting the very first fire in our huge (some would say 'big ass') fire ring. This ring was donated by Daniel after he visited and saw the tiny fire ring we were using. THANKS! If we ever make a grill for this, I bet we could grill and entire deer at once.
Speaking of deer… Our cameras must be recording 500 stills and videos of whitetail deer every week! It's difficult to choose which ones to share!
And some videos of the deer.
We also have hundreds of curved and otherwise interesting trees at the Acres. Where the trees are packed to closely together, trees on the edge of clearings or pathways bend and bow where they can to find a bit more sunshine. Woodpeckers reveal insect infestations.
And no weekend away would be complete without a campfire to enjoy with your dogs while relaxing in a hanging hammock chair. 😉