What happens when you find your den in the wilderness? All of those modern conveniences are harder to come by. Losing some of them is the very point of being in a remote location. Others can be pretty nice to keep. Like phone service…
At Starvation Acres, cellphone service on a Verizon phone stands at 'one bar' with zero ability to place a call or send a text. In other words, there's no chance of calling for help of any kind without using a satellite beacon. So we investigated cellphone boosters. Based partly on conversations with people we encountered in remote areas, we decided to try the WeBoost multi user, 2 – 3 room cell phone booster with do it yourself installation.

Do it 'right' or do it now?
'Now' sounds better to me. 🙂 While salvaging poles from some trees needing to be removed for the pending driveway, I decided to use one as a temporary WeBoost tower. After dragging the longest (20 feet) pole to the micro-cabin and preparing anchor locations, I attached the WeBoost antenna and carefully hoisted the mast-pole into place. As soon as I had everything connected and plugged in the power, I could make phone calls!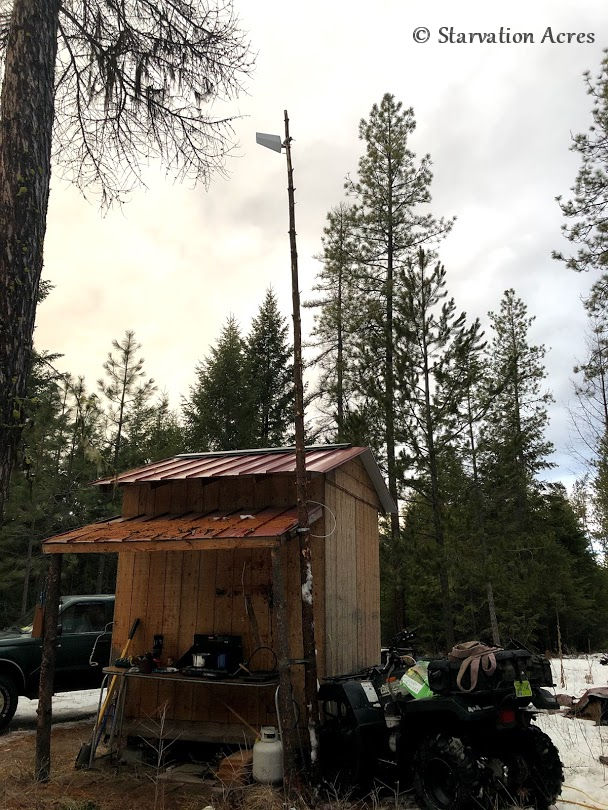 The most time consuming task was to adjust the antenna position for maximum internet speed using LTE. To this end, I recorded the compass heading (allowing for proper declination) of the antenna position as well as the system (LTE, 3G, 1x, etc) and the speed test results. WeBoost recommends rotating in 1/8 turn increments so, being very remotely located, I cut that in half and worked twice as long.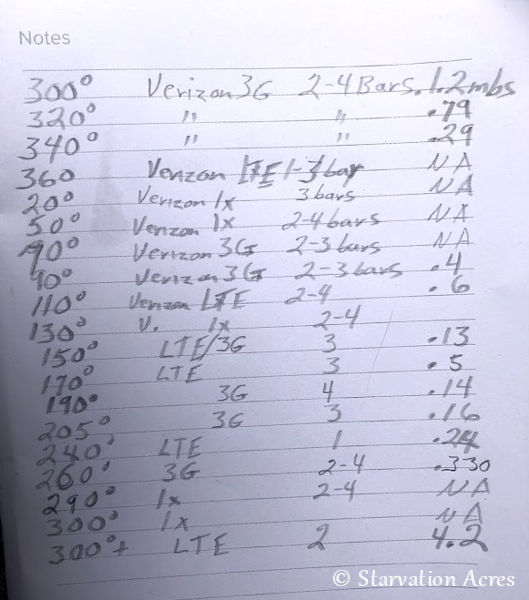 As you can see, the second best antenna position was the first location I tested. After many tests, restarting the booster each and every time, I landed on the heading just past 300° giving me LTE service and 4.2 Mbs download speed. So much more nice than no service and zero download capability! This so called 'speed' allows us to check email and weather. Haven't yet tried streaming YouTube videos or a radio broadcast.
A more robust tower for our antenna is still planned and we're wanting to go even higher in hopes of being able to stream AM radio. You never know when the sky might go dark with volcanic ash and you'll need to know which direction to run. 😉